Nearly Four Decades of Experience Working Towards Your Goal



Experience the Difference
Conservatorship Attorney in Los Angeles
Compassionate Representation from a Firm That Cares
In California, a conservatorship can be established to ensure the proper care of an incapacitated or disabled adult. A conservatorship names one person as the adult's conservator, who will be granted the right to make certain decisions on behalf of the adult (called the conservatee).
If you need assistance with a matter regarding conservatorships – whether you would like to establish or contest a conservatorship – the Law Office of Mitchell A. Port offers the services you need. Mitch Port has 37 years of estate planning and probate experience to put to work for you. We understand that the nuances and complications involved in conservatorships can be difficult to navigate. Our firm wants to help you navigate the road ahead and achieve a favorable resolution.
---
Discuss your case with us today by calling (310) 526-3433 or contacting us online.
---
Types of Conservatorships
In California, a conservatorship must be established when an adult cannot fully handle their personal care, medical needs, or finances.
There are two types of probate conservatorships:
General conservatorships can be established for adults who are fully unable to take care of themselves or manage their finances.
Limited conservatorships can be established for adults with developmental disabilities that prevent them from fully caring for themselves or their finances.
A conservatee in a limited conservatorship requires less care than a conservatee in a general conservatorship. The power of a conservator will be defined by the courts on a case-by-case basis. Conservators may have control of the conservatee's daily care, their estate, or both.
When assigned to care for the adult's daily needs, you will have to ensure their daily physical needs are met, including:
Food
Shelter
Clothing
Transportation
Medical care
Personal care and hygiene
Social needs
If you are in charge of the conservatee's estate, you will be tasked with handling their finances and allocating their funds to ensure proper care.
Consult with the Law Office of Mitchell A. Port
A conservatorship is a vital way to provide care for an incapacitated adult. If you are looking to be named the conservator of your loved one or you have found fault with a loved one's current conservator, let our firm help you find the solution you are seeking.
Mitch Port is eager to lend his experience and skill to your case. At the Law Office of Mitchell A. Port, we prioritize our clients' needs and take the time to get to know them. By taking this client-focused approach, we ensure that our representation is personalized and effective.
---
Contact us today by calling (310) 526-3433. We look forward to serving you and your family.
---
"He is experienced, compassionate, and efficient."

- Carol R.

"Mitch always goes above and beyond when dedicating his time and professional skills."

- Jamie P.

"I'd recommend Mitch to anyone requiring legal services for probate, trust administration or estate planning."

- Jill S.
Get Our Free Online Guide
"Wills, Estates, and Probate 101"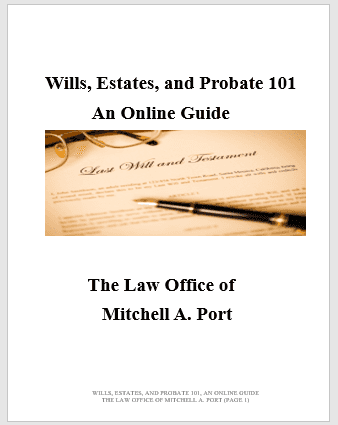 Just enter your email address to receive the download link.