Nearly Four Decades of Experience Working Towards Your Goal



Experience the Difference
Los Angeles Trust Administration Lawyer
We Can Help You Fulfill Your Fiduciary Duty
When you've been designated a trustee for someone's revocable or irrevocable living trust, you have been given a serious legal responsibility. Similar to being an executor of a will, you will be in charge of administering assets and handling any disputes that arise after the document's creator (or trustor) passes away. Unlike a will, however, you will most likely be administering trust assets while the trustor is still alive too – and there are many moving pieces to consider in the California trust administration process.
Even if the trust appears simple, you should consider the services of an experienced Los Angeles trust administration attorney, to ensure that you are fulfilling your role to the letter of the law. At the Law Office of Mitchell A. Port, we can help you avoid costly mistakes, as well as serve as your representation in the face of any trust litigation or disputes. It's our goal to give you sound advice and help you navigate this important responsibility, so that you can protect the trustor's legacy.
---
For more information about our legal services, give our Los Angeles trust administration lawyer a call at (310) 526-3433 today.
---
What Does a Trust Administrator Do?
As a trust administrator, there are many tasks you will need to perform once the trustor has signed their paperwork, and you will also have additional duties once the trustor becomes deceased. From investing assets to distributing out properties, you will need to have a clear understanding of the trustor's wishes in order to perform your job.
How to Administer a Trust in California
Here are some of the tasks you may need to complete as a trustee:
Making decisions about conservatorship for incapacitated trustors
Determining proper care for elderly beneficiaries
Keeping clear records of your decisions and investments
Paying taxes and creditors on behalf of the deceased
Managing funds and stock portfolios that are kept in trust
Assessing the value of a trust's assets
Accurately disclosing personal gain and any conflicts of interest
Distributing properties according to the trustor's wishes
Managing accounts for underage beneficiaries
Contacting and informing beneficiaries about trust changes
Meeting the IRS deadlines for tax payments
Of course, there are many other possible tasks beyond those listed above, too. This is one of the reasons it's recommended that you speak with a qualified probate attorney right away: Aside from reducing your stress as a new trust administrator, a Los Angeles trust administration lawyer can help you with filing the right forms and motions to meet your responsibilities.
Careful Legal Guidance for Trustees
At the Law Office of Mitchell A. Port, our Los Angeles trust administration attorney understands that it can be overwhelming to administer a trust on your own. Regardless of your familiarity with this role, we can help trustees resolve any disputes that come up and deal with all debts, tax matters, property distribution, and conflicts of interest. By relying on us, you'll have greater confidence that your trust is being managed correctly, and in accordance with California trust administration laws.
---
Call (310) 526-3433 for a free consultation over the phone with our Los Angeles trust administration lawyer!
---
"If you live on one coast and have a complex legal case on the other, you want a lawyer that not only has the knowledge and expertise to handle your case, but can make it as convenient as possible. I found that with Mitchell Port."

- Michelle F.

"My brother and I have been so fortunate that my father chose Mitch Port to create his Trust!"

- Cathy W

"

Mitch is compassionate, extremely knowledgeable and professional

"

- Lynne
Get Our Free Online Guide
"Wills, Estates, and Probate 101"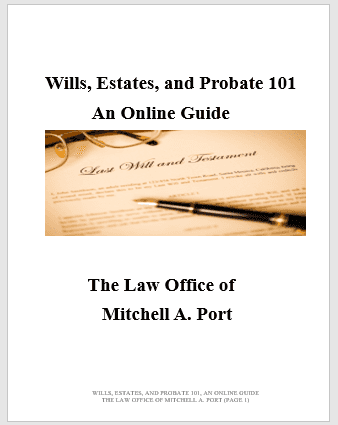 Just enter your email address to receive the download link.