Nearly Four Decades of Experience Working Towards Your Goal



Experience the Difference
Los Angeles Probate Attorney
Navigating Complex Probate Cases in California
Probate is a legal process for reviewing a deceased person's estate and determining inheritors. It involves validating the will (if present), identifying and distributing assets, paying off debts, and ensuring a smooth transfer of property to heirs or beneficiaries.
It is always advisable to hire an experienced Los Angeles probate attorney to handle probate matters because the applicable estate planning laws in California are numerous and often complex.
The Law Office of Mitchell A. Port can work with you to navigate the California probate process smoothly, allowing you to reap its benefits — such as the elimination of creditors' claims against the property of the deceased person (the decedent) and the guarantee that the property will pass to the rightful heirs (the beneficiaries) — while avoiding potentially significant and costly errors. Our California estate planning lawyers can help you navigate probate court in Los Angeles.
---
Discuss your case with our Los Angeles probate lawyer today by calling

(310) 526-3433

or contacting us online.
---
What Is California Probate Law?
When someone who owns property in California dies, a Los Angeles probate court may need to oversee the transfer of property ownership from the decedent's estate to the heirs, regardless of whether or not the individual has a will.
This oversight process is called probate.
When Does Probate Happen In California?
Probate typically occurs when the decedent owns real estate and personal property (like stocks, bonds, bank accounts) in California valued at more than $166,250. To the extent possible, probate should be avoided.
Although there are many different techniques that exist under California probate law that can allow someone to avoid probate, there will be cases when probate cannot be avoided and the process must be started in order to transfer ownership of the decedent's property to the rightful heirs.
When probate is unavoidable contacting an experienced estate planning lawyer can make the California probate process much smoother.
Probate Litigation in California
Probate in California is rarely straightforward – but working with your law firm should be. Because Probate litigation can be a stressful experience due to high-risk exposure and unpredictable results, it would be best to have a probate attorney who would simplify the process, not complicate it further.
At the Law Office of Mitchell A. Port, our probate lawyer in Los Angeles is committed to helping you find the most direct route to a successful outcome. When you are faced with probate, choose a legal team that will help you chart the right course.
Contact Our Los Angeles Probate Litigation Lawyer
Choose our Los Angeles probate attorney from the Law Office of Mitchell A. Port for legal representation in any probate proceedings.
Discuss your case with our Los Angeles probate lawyer today by calling (310) 526-3433 or contacting us online.
Are Probate Records Public in California?
Are you searching for probate documents that were filed in the state of CA? Not sure if you can licitly obtain the records or even view them?
The Public Case Access System in California allows the public to view case information and public documents on Probate, Trust, and Estate Plan cases that were filed after February 5, 2007. Name searches and downloads of the documents will require public access fees to the Courthouse.
Once you have located LA county that the probate was filed and viewed the probate court docket online, the steps involved in obtaining a replica of a will or other probate document directly from the probate courthouse online will include the following:
Mailing or faxing an inscribed request to the court
Paying a fee for the copying of pages that the will or probate contains (they conventionally range from $1 to a couple of dollars per page)
You must provide a self-addressed stamped envelope for mailing the printed copies back to you
Depending on how recent your file is, your request for documents may take six to eight weeks to process and for you to receive in the mail
Discuss your case with our probate attorney in LA County today by calling

(310) 526-3433

or contacting us online.
How Does Probate Work in California?
How Long Does Probate Take in California?
In the state of CA, an estate's probate process can be completed in at least nine months. The length of time is determined by the complexity of the case.
On average, it will usually take a year to a year and a half to finish. The estate planning is required to go through the probate process if the owner of the estate did not have a will when they passed away.
If the total value of their assets is under $166,250 and there is a valid will, the estate can avoid probate. If you are having a hard time figuring out if your estate will have to go through the probate process, do not hesitate to reach out to a Los Angeles probate lawyer at the Law Office of Mitchell A. Port.
---
Our experienced Los Angeles probate attorneys are here to help guide you through the process and figure out what works for your estate. Call us today for a consultation!
---
What Assets are Subject to Probate in California?
Some estate assets in CA are subject to the probate process. Any probate estate or personal properties that were owned individually by the deceased are included.
Probate assets in California also include the following:
Homes
Vacation Homes
Cars
Boats
Jewelry
Art
Collections
Furniture
Household Goods
Checking Accounts
Savings Accounts
Stocks
Business Interests
If you are wondering if your loved one's assets need to be included in the probate process, the Los Angeles probate attorney at the Law Office of Mitchell A. Port is here to help guide you through the process and discuss your options. Give us a call today to schedule a consultation.
How Can Probate Be Avoided in CA?
If you want to avoid probate in California, there are a few options available to you. These options include:
A Living Trust
Joint Ownership
Payable-on-Death Designation
Transfer-on-Death Registration
An experienced LA estate planning attorney can help walk you through your options for keeping your assets out of probate.
What Is a Living Trust?
You can create a living trust in California to avoid the probate process on any asset you own, whether that be:
A bank account
Vehicle
Or real estate
Once you create a trust document, you will have to name someone as the successor trustee who will oversee your belongings after your passing.
One step you must complete is transferring ownership of your property to yourself as the trustee of the trust. This will allow the successor trustee to be able to transfer your assets to your beneficiaries upon your passing and avoid the probate process. It is a good idea to reach out to a probate attorney for help with this step.
What Is Joint Ownership?
You can own and operate property with another individual through joint ownership. "Right of Survivorship" on the joint ownership allows a person to take full ownership of the property in the event the other owner passes.
Probate estate can be avoided when transferring the property, but it will take some documented proof to show the title of your property is owned by the surviving owner.
There are two types of joint ownership available in CA:
Joint tenancy: No probate is needed in joint tenancy as property will automatically transfer to surviving owners when one owner passes. This type of joint ownership works well for couples who acquire vehicles, real estate or other valuable property, and bank accounts. In California, each owner is referred to as a joint tenant and must own an equal share.
Communal property with right of survivorship: Unless couples take certain steps to keep assets or property separate from each other, California law has all property owned jointly in a marriage because it is a community property state.
Payable-on-Death Designations for Bank Accounts
California allows people to add a "payable-on-death" (POD) designation to certificates of deposit or savings accounts. This allows you to remain in control of all of your money in the account until the time of your passing, at which point the POD beneficiary can claim money from the bank while avoiding probate court proceedings.
Transfer-on-Death Registration for Securities
In California, you can use transfer-on-death (TOD) registration for bonds and stocks. Using this method allows people to hold brokerage accounts in this way.
The beneficiary you name will automatically inherit the account at the time of your death if you registered an account with TOD. The beneficiary will have to deal directly with the brokerage company to transfer the account and will not have to attend any probate court proceedings.
Transfer-on-Death Deeds for Real Estate
Transfer-on-death deeds are also allowed for real estate in the state of California. These are sometimes referred to as beneficiary deeds.
You can go through the process of setting these up now, but they won't take effect until the time of your passing. You can sell the property or revoke the deed at any time, and the beneficiary you named on your deed has no rights until your death under Cal. Probate Code § 5620.
Transfer-on-Death Registration for Vehicles
Transfer-on-death registration for vehicles are also allowed in the state of CA. If you choose to register your vehicle like this, the person you named as the beneficiary will inherit the vehicle automatically after your passing. This route will not require probate court proceedings either.
Simplified Probate Procedures in CA
There is another avenue your estate might qualify for in the state of CA, and that would be "small estate" probate proceedings, which are available for some California properties. Reach out to our probate attorney in Los Angeles today to explore how you can possibly avoid probate court proceedings.
Related Reading:
You can also visit our YouTube channel for more information from us on Probate.
---
Contact us online or call

(310) 526-3433

to request a free phone consultation with our Los Angeles probate lawyer.
---
"If you live on one coast and have a complex legal case on the other, you want a lawyer that not only has the knowledge and expertise to handle your case, but can make it as convenient as possible. I found that with Mitchell Port."

- Michelle F.

"My brother and I have been so fortunate that my father chose Mitch Port to create his Trust!"

- Cathy W

"

Mitch is compassionate, extremely knowledgeable and professional

"

- Lynne
Get Our Free Online Guide
"Wills, Estates, and Probate 101"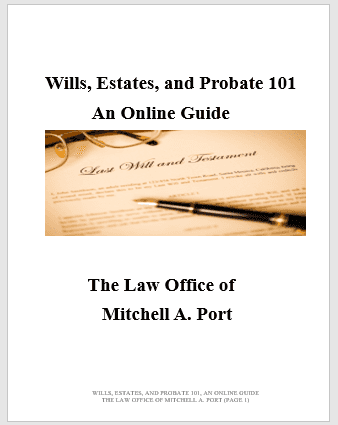 Just enter your email address to receive the download link.