Nearly Four Decades of Experience Working Towards Your Goal



Experience the Difference
Los Angeles Wills Lawyer
Drafting Comprehensive & Effective Wills
The will is the foundation of any estate plan. It provides an outline of your wishes in the event that you become incapacitated or pass away. With a will in place, you can ease the burden on your family, distribute your assets, and ensure a bright future for your loved ones.
When it comes to drafting a will, there is no time like the present. It is never too soon to start planning for the future. At the Law Office of Mitchell A. Port, we can help you make smart decisions that will benefit you and your family far into the future. Our wills attorney in Los Angeles has 37 years of experience to inform his counsel. You can count on Mitch Port to help you achieve your goals.
---
Let's get started on your case. Call our Los Aneles wills lawyer at (310) 526-3433 or contact us online today.
---
What Is Included in a Will?
Your last will and testament is a vital document. All adults – regardless of the size of their estate – should have a will in place and should keep it updated over the years.
Your will should be personalized to your unique situation. Every will is different, but a strong will contains a few key components.
In your will, you can:
Decide who will inherit your property. This process can be quite complex, as it requires reviewing your assets, determining which items need to be left out of the will, and assigning assets to specific people. You should also select alternate beneficiaries in the event that your first choice(s) does not survive you.
Name an executor. Every will requires an executor who can ensure that the terms of the will are met in the event of your incapacitation or death.
Assign guardianship of minor children. If you have children, this is a crucial topic. Selecting a guardian for your children will allow one person to raise them in the event that you or the other parent cannot.
Assign someone to manage inheritance for young children. If you leave property or assets to a minor child or young adult, it is wise to assign a trustee to manage the inheritance until the child is of age.
These are just a few examples of what can be included in your will. We encourage you to schedule a free consultation with our Los Angeles wills attorney so that we can discuss your unique situation and ensure that your will meets your needs.
Will Contests in California
If a will is not clear enough or contains inaccuracies, a dispute may arise between beneficiaries. It's also possible that a beneficiary could dispute a decision made by the state.
A will could be contested on grounds such as:
Fraud
Lack of capacity
Forgery
Misrepresentation
Malice
Undue influence
If you have reason to believe that there is a mistake in the will or fraud at play, you have the right to contest the will. Contesting a will can prove complicated, so it is in your best interest to retain a knowledgeable lawyer. Our Los Angeles wills attorney can represent you in your efforts to pursue justice.
---
Contact us online or call (310) 526-3433 now for a free phone consultation with our Los Aneles wills lawyer.
---
"If you live on one coast and have a complex legal case on the other, you want a lawyer that not only has the knowledge and expertise to handle your case, but can make it as convenient as possible. I found that with Mitchell Port."

- Michelle F.

"My brother and I have been so fortunate that my father chose Mitch Port to create his Trust!"

- Cathy W

"

Mitch is compassionate, extremely knowledgeable and professional

"

- Lynne
Get Our Free Online Guide
"Wills, Estates, and Probate 101"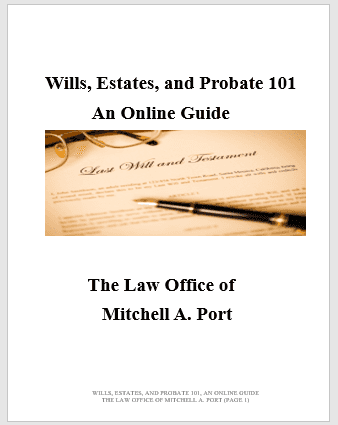 Just enter your email address to receive the download link.