Nearly Four Decades of Experience Working Towards Your Goal



Experience the Difference
Los Angeles Trusts Lawyer
Safeguard Your Property & Assets in California
Whether you are interested in establishing a new trust or need to resolve an issue with an existing trust, the Law Office of Mitchell A. Port can help. Our Los Angeles trust attorney has 37 years of experience and understands the complex laws and regulations governing trusts.
Attorney Mitchell A. Portcan assist you with:
Establishing and funding a trust
Contesting a trust
Trust revocation
---
ContactMitch Port for a free phone consultation – just call (310) 526-3433to speak with our trust lawyer in Los Angeles.
---
What Is a Trust?
A trust is a tool that can be used to manage assets during your lifetime and distribute them upon your death. A trustee must be established to manage the trust and administer the property when appropriate.
Trusts are often funded by:
Real property
Investments
Stocks
Valuable items and family heirlooms
Cars, trucks, and other vehicles
Trusts are useful if you want to protect certain assets for minor children or young adults who cannot be trusted with complete access to the assets.
What are the Different Types of Trusts?
Revocable trust in California is a trust that can be revoked or altered by the person who created it (grantor) at any point during their lifetime. This type of trust is effective for avoiding probate and providing for asset management if the grantor is incapacitated.
Irrevocable trust cannot be changed or revoked once created. This type of trust is best used to protect your assets and reduce taxes for estate planning purposes.
Living trusts can be created during the life of the grantor and becomes effective immediately. This type of trust is often used to avoid probate and provide asset management in the event of incapacitation.
Testamentary trusts are created in a will and becomes effective upon the grantor's death. It is typically used to manage assets for minor children or individuals with special needs.
A charitable trust is created for charitable purposes. It provides tax benefits to the grantor and can support a variety of philanthropic causes.
Special needs trusts are created for individuals with disabilities. The purpose is to provide for an individual's needs without interfering with their eligibility for government assistance.
Spendthrift trusts restrict beneficiary's access to the trust assets. This type of trust is often used to protect assets from creditors and the beneficiary's poor financial decisions.
Establishing a Trust in California
List Your Assets - Inventory your assets, like property and finances, for the trust. Include real estate, bank accounts, valuable items. Exclude vehicles and non-probate assets like insurance policies and retirement accounts.
Select a Trustee - Choose a trustee to manage trust assets. You can be the trustee and name a successor for when you're unable.
Designate Beneficiaries - Pick individuals or organizations to receive trust assets upon your passing.
Draft the Declaration of Trust - Craft a valid Declaration of Trust, ensuring correct legal language. Online platforms or an attorney can assist.
Optional Notary Authentication - Though not needed, many opt for notary public verification for added authenticity.
Transfer Property - Change ownership of assets to the trust entity, updating deeds and titles as needed.
For professional assistance with your California living trust, consult Law Office of Mitchell A. Port.
Contact Our California trust law firm at (310) 526-3433 if you need help with living trusts, special needs trust, revocable trusts, and more. Our experienced Los Angeles trust attorney will be with you every step of the way.
Related Readings:
Trust Administration in California
It can be difficult to determine how to properly administer a trust. The process depends on the type of property funding the trust, the beneficiaries, and whether the trust is contested.
Our Los Angeles trust attorney can help trustees with:
Impartially handling beneficiaries and distributing the assets properly
Separating trust assets and personal assets
Mitigating or resolving disputes with beneficiaries
All tax-related matters
Addressing debts
Administering trust expenses
California Trust Litigation
As a trustee, you have a big job. Managing a trust can be difficult, and sometimes simple mistakes are misinterpreted as misconduct. Beneficiaries, too, can encounter issues with a trust. If you believe that your rights are being violated or that you are being unfairly accused of misconduct, the Law Office of Mitchell A. Port can represent you in trust litigation.
Our Los Angeles trust lawyer can assist you with trust litigation involving:
Tax returns
Accounting errors
Trust property distribution
Investment disputes
---
To get started on your case with a free phone consultation, call our Los Angeles trust attorney, Mitch Port, at (310) 526-3433.
---
"If you live on one coast and have a complex legal case on the other, you want a lawyer that not only has the knowledge and expertise to handle your case, but can make it as convenient as possible. I found that with Mitchell Port."

- Michelle F.

"My brother and I have been so fortunate that my father chose Mitch Port to create his Trust!"

- Cathy W

"

Mitch is compassionate, extremely knowledgeable and professional

"

- Lynne
Get Our Free Online Guide
"Wills, Estates, and Probate 101"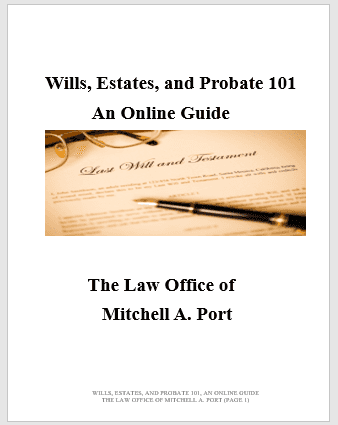 Just enter your email address to receive the download link.