Nearly Four Decades of Experience Working Towards Your Goal



Experience the Difference
Special Needs Trust Lawyer in Los Angeles
Ensure a Bright Future for Your Loved One
A special needs trust is a way to hold assets for a disabled individual without the assets being considered their property. Many state and federal benefits – such as Medi-Cal and SSI – have asset thresholds that qualifying beneficiaries cannot exceed.
With assets safely stored in a special needs trust, the disabled individual can obtain those state and federal benefits while still having access to the assets in the trust. If you are interested in supporting a loved one through a special needs trust, it can be difficult to know where to begin.
The process of establishing and funding a trust is best completed with the assistance of a knowledgeable lawyer. At the Law Office of Mitchell A. Port, our special needs trust attorney in Los Angeles has extensive experience helping clients navigate issues involving trusts. Mitch Port is here to guide you down the path forward.
---
To learn more about special needs trusts and how we can help you establish one, call (310) 526-3433 or contact us online.
---
Types of Special Needs Trusts
A special needs trust can either be funded by a first party or third party.
What Is a First-Party Trust?
A first-party special needs trust is funded by the disabled individual's own assets or those of their spouse. First-party trusts are subject to stricter rules and restrictions.
What Is a Third-Party Trust?
A third-party special needs trust is funded by anyone else, such as a parent or other relative.
Upon establishing a special needs trust, you have the right to name a trustee. Many people name themselves or other loved ones as trustees. Others prefer to name a professional trustee who has more extensive knowledge about public benefit programs
Regardless of whom you name as the trustee, our special needs trust attorney in Los Angeles can provide the legal advice and counsel you need to ensure a stable and lawful trust.
If you are the trustee, we can keep you informed on benefit programs and help you make informed decisions regarding your trust and the beneficiary.
---
Contact us at (310) 526-3433 to discuss your unique situation with our Los Angeles special needs trust lawyers from the Law Office of Mitchell A. Port.
---
"If you live on one coast and have a complex legal case on the other, you want a lawyer that not only has the knowledge and expertise to handle your case, but can make it as convenient as possible. I found that with Mitchell Port."

- Michelle F.

"My brother and I have been so fortunate that my father chose Mitch Port to create his Trust!"

- Cathy W

"

Mitch is compassionate, extremely knowledgeable and professional

"

- Lynne
Get Our Free Online Guide
"Wills, Estates, and Probate 101"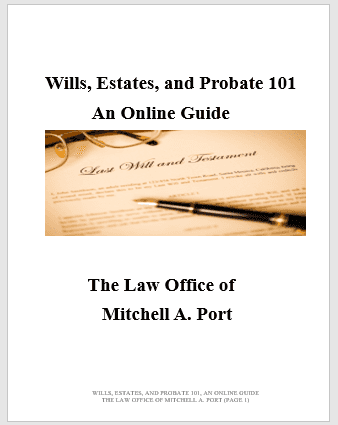 Just enter your email address to receive the download link.