Nearly Four Decades of Experience Working Towards Your Goal



Experience the Difference
Los Angeles Probate Avoidance Attorney
Navigating Complex California Probate Cases
It is always recommended to consult with an experienced Los Angeles probate avoidance lawyer if you want to avoid the probate process. The California probate laws regarding which assets can/can not be excluded in probate is complex. Having our Los Angeles probate avoidance attorney on your side can make all the difference.
How to Avoid Probate in California
Avoiding the probate court process in California can save you a lot of time, money, and confusion. It's not a surprise that people want to take the necessary steps to protect their families from having to go through it.
Different states offer different ways to avoid probate. Here are ways of avoiding probate in California:
Creating a Living Trust
Setting up a Joint Ownership
Payable-on-Death Designations for Bank Accounts
Transfer-on-Death Registration for Securities
Transfer-on-Death Deeds for Real Estate
Transfer-on-Death Registration for Vehicles
When is Probate Unnecessary?
Going through the California probate process is not always recommended or even necessary in some cases. The process can be very time consuming and costly. If you have the following, then you can skip the process all together:
Trusts: If the deceased had a trust, you will not need to go through probate. Trusts are created to allow the deceased's family and friends to inherit without having to go through the long and expensive probate process.
Property Held Jointly: You will not be required to file for probate for the deceased's assets if they are held jointly with another person. However, if you are tenants-in-common meaning each own a specified share of the property, you will have to go through probate.
Low Value Assets: If an estate is of low value, usually $166,250 or less for both real estate and personal property in California, it can skip the process also.
Each financial situation is different and figuring out which option is best for yours can be frustrating and complex. Do not hesitate to reach out to our Los Angeles probate avoidance attorney at the Law Office of Mitchell A. Port. We are here to answer any question you may have and make sure you know your options.
The Benefits and Disadvantages of the Probate Process in California
The California probate process is typically avoiding by individuals for a number of reasons, including:
It is time consuming
Expensive
Complications
Probate is public record
The California probate process also has multiple benefits even if it is necessary for some estates. They include the following:
Protection from creditors
Tax protection
Resolves estate disputes
Every estate is unique and in order to figure out what works for you, it is necessary to consult with an experienced probate attorney. The Los Angeles probate avoidance attorney at the Law Office of Mitchell A. Port is here to guide you through the process.
---
Give us a call today to discuss your options.
---
"He is experienced, compassionate, and efficient."

- Carol R.

"Mitch always goes above and beyond when dedicating his time and professional skills."

- Jamie P.

"I'd recommend Mitch to anyone requiring legal services for probate, trust administration or estate planning."

- Jill S.
Get Our Free Online Guide
"Wills, Estates, and Probate 101"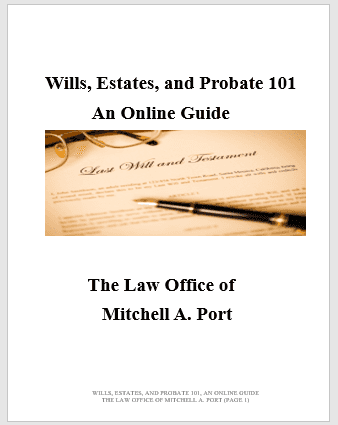 Just enter your email address to receive the download link.