Nearly Four Decades of Experience Working Towards Your Goal



Experience the Difference
Los Angeles Probate Litigation Attorney
Defending Your Interests During Complex Probate Litigation Matters
After someone dies, all of their belongings will go through the process known as "probate," unless specific assets have been included in a privately-owned trust.
Unfortunately, because the probate process is public, you may encounter many legal challenges to the last wishes of the deceased (also known as the decedent) – and your rights as a beneficiary, executor, or trustee may be at stake as a result. This is referred to as probate litigation.
---
Reach out to our Los Angeles probation litigation attorney for a free phone consultation by calling (310) 526-3433, or contact us online now.
---
Whether you're the beneficiary of a will or the administrator of a trust, it can be daunting to face a challenge during probate. Let our experienced Los Angeles probation litigation lawyer at the Law Office of Mitchell A. Port help you craft a winning strategy and provide the skilled representation that you need.
By standing up against claims and petitions that could impact your family, we'll aim to preserve your loved one's legacy and defend your own interests, too.
What Are the Most Common Probate Disputes?
Whenever there's a legal conflict about the administration or the distribution of a decedent's assets, this can be categorized as probate litigation. Depending on how the initial will and trust documents were written, there could be legal ambiguities in the decedent's estate plan.
In other cases, it could simply be a matter of contesting beneficiaries and family members who have a history of conflict. Whatever the reason for bringing probate litigation, it can be a costly and frustrating process without the right legal counsel.
Our Los Angeles probation litigation attorney would be happy to represent you in the following California probate litigation matters:
Claims for distribution by a potential beneficiary
Challenges to estates, including wills and trusts
Breach of fiduciary duty by a trustee
Contested fees for lawyers, accountants, and other estate agents
Disputed inheritances or properties
Third-party claims about delinquent assets or debts
Why Do Probate Litigation Matters Arise?
In the end, even a well-crafted estate plan can be subject to various claims, disputes, and petitions in probate. Although probate is supposed to be a straightforward process that follows the will of the decedent, these litigation matters can often turn into multiple-year-long legal battles unless you have solid representation with an experienced Los Angeles probate litigation lawyer.
Without a speedy resolution to these issues, your inheritance or trust could ultimately be drained by court and legal fees. Attorney Mitch Port is committed to making the legal process more efficient for those facing probate in California, and ensuring that the decedent's final wishes are respected.
Our small Los Angeles probate litigation law firm can give you the hands-on and personalized service you need, so that you can focus on honoring your loved one's memory.
---
Let us help you streamline the California probate process. Call (310) 526-3433 or contact us online today for a free consultation with our Los Angeles probate litigation attorney.
---
"If you live on one coast and have a complex legal case on the other, you want a lawyer that not only has the knowledge and expertise to handle your case, but can make it as convenient as possible. I found that with Mitchell Port."

- Michelle F.

"My brother and I have been so fortunate that my father chose Mitch Port to create his Trust!"

- Cathy W

"

Mitch is compassionate, extremely knowledgeable and professional

"

- Lynne
Get Our Free Online Guide
"Wills, Estates, and Probate 101"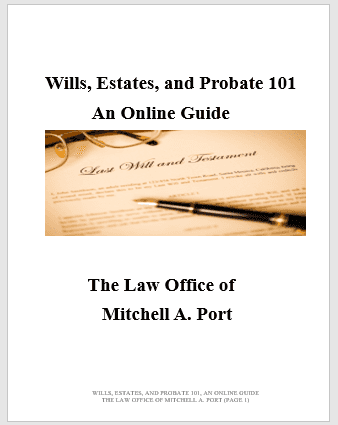 Just enter your email address to receive the download link.