Nearly Four Decades of Experience Working Towards Your Goal



Experience the Difference
Tax Disputes Attorney in Los Angeles
Aggressive Representation & Personalized Tax Help California
Obtaining tax help from an experienced and qualified California tax attorney is crucial to resolving tax problems. Attorney Mitchell A. Port is a lawyer and a former Internal Revenue Service (IRS) revenue/collection officer with an LL.M. in tax law from the University of San Diego School of Law who specializes in tax controversies. He can answer your questions and provide you with affordable, no-nonsense, practical, and effective solutions to your state or federal tax controversy case.
---
To discuss your case with our Los Angeles tax lawyer, call (310) 526-3433 or contact us online.
---
Helping with Tax Controversies in California
The Law Office of Mitchell A. Port works with individuals, estates, and businesses to resolve their tax controversy disputes.
Mitch Port handles tax controversy cases in California involving:
Internal Revenue Service income tax collection problems
Internal Revenue Service payroll tax problems
U.S. Tax Court cases
California Franchise Tax Board tax problems
Innocent spouse relief
Tax lien, bank levy, wage levy, and garnishment
Installment agreements
Property seizures
Preventing the filing of federal tax liens or removing them once filed
Negotiating and writing IRS Offers in Compromise
Classifying workers as employees or independent contractors
Abating penalties and interest
Obtaining tax refunds
Addressing back taxes
Subordinating or discharging IRS tax liens
Defending against the application of the Trust Fund Recovery Penalty, also known as the 100% penalty for payroll taxes
Representing your best interests in IRS Appeals
Addressing unfiled tax returns
We can translate all legal and tax jargon into plain English for our clients who are dealing with pending tax controversy cases in the U.S. Tax Court and with the IRS so that they are well-versed, up-to-date, aware of case developments, and able to make educated and informed decisions. Our Los Angeles tax lawyers know how to smoothly navigate the rules and regulations of the IRS and the California tax agencies to avoid errors with potentially significant and costly implications.
Our Los Angeles tax attorney can appear in any IRS office throughout the United States. Mitch Port represents clients in tax controversy cases taking place primarily in Inglewood, Beverly Hills, Culver City, Venice, West Los Angeles, East Los Angeles, the cities of San Fernando Valley—including Sherman Oaks, Woodland Hills, Calabasas, and Encino—as well as other cities throughout Los Angeles County, Ventura County, Santa Barbara County, and Orange County.
Tax Litigation in California
IRS problems — especially those leading to tax litigation — are rarely simple. Working with your Los Angeles tax attorney, however, should be. Battling the IRS can be a stressful experience, involving high risks and results that are not easy to predict.
It is important that you work with a Los Angeles tax lawyer who can make the process easier for you rather than more complicated. If you are faced with a federal or state tax controversy, choose a law firm that can direct you to the right course of action. Choose the Law Office of Mitchell A. Port.
---
Contact us online or call (310) 526-3433 to request a free phone consultation with our Los Angeles tax attorneys.
---
"If you live on one coast and have a complex legal case on the other, you want a lawyer that not only has the knowledge and expertise to handle your case, but can make it as convenient as possible. I found that with Mitchell Port."

- Michelle F.

"My brother and I have been so fortunate that my father chose Mitch Port to create his Trust!"

- Cathy W

"

Mitch is compassionate, extremely knowledgeable and professional

"

- Lynne
Get Our Free Online Guide
"Wills, Estates, and Probate 101"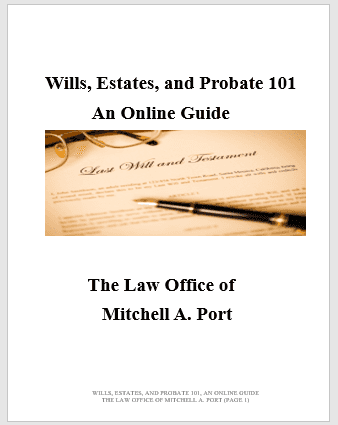 Just enter your email address to receive the download link.