Nearly Four Decades of Experience Working Towards Your Goal



Experience the Difference
Trust Litigation Attorney Los Angeles
Protecting Your Rights and Your Inheritance
The laws that govern trusts in California are complicated, so whether you're a fiduciary representative or the designated beneficiary of a trust, you may face any number of legal challenges to your rights. If your trust has been placed at risk of trust litigation, you'll need the right representation in order to protect your assets – and secure your financial future.
At the Law Office of Mitchell A. Port, our Los Angeles trust litigation attorney is ready to help you handle even the most difficult disputes between:
Family members
Beneficiaries
Trustees
Or anyone else who might be named in an estate plan
Attorney Mitchell Port brings over 35 years of experience in estate planning and trust law to the table, and with skillful and diplomatic guidance, our Los Angeles trust litigation lawyer can help you find a positive resolution to these conflicts.
---
To schedule a free phone consultation, just dial (310) 526-3433 or fill out our online contact form today!
---
Most Common Issues in California Trust Litigation
Trusts are one of the best ways to ensure that your financial legacy will live on after you pass away, which is why many people choose to create a living trust in the first place. When set up correctly, trusts can be effective tools for managing your assets.
However, there's always the possibility that the designated trustees and beneficiaries for a given trust will encounter some degree of conflict and discord once the California probate process begins. Even if you work hard to protect a loved one's estate and assets as a trustee, you may face unfounded accusations that you are acting improperly or committing financial misconduct.
On the other hand, if you are a beneficiary, you may have a number of valid concerns about how your trustee has managed your funds – or worry that you are losing your legal rights.
California Trust Litigation Help
Attorney Mitch Port can help you with any of the following California trust litigation matters:
Filing claims about breach of fiduciary duty
Removing a trustee who has committed fraud or misconduct
Mediating disagreements about trust properties
Defending against lawsuits filed against the trust
Filing petitions for trust operations
Contesting or defending conservatorships
Resolving conflict between beneficiaries
Protecting Assets from Litigation
Fending off trust litigation requires a delicate hand, as well as expert knowledge in probate law. When you come through the doors at the Law Office of Mitchell A. Port, you'll discover that you have a friend in our trust litigation attorney in Los Angeles.
Bringing years of experience both as a lawyer and as an IRS revenue collections officer, Attorney Port will give you personalized and professional advocacy for any trust litigation you're facing.
---
Call (310) 526-3433 or contact us online today to get a free consultation with our Los Angeles trust litigation lawyer!
---
"He is experienced, compassionate, and efficient."

- Carol R.

"Mitch always goes above and beyond when dedicating his time and professional skills."

- Jamie P.

"I'd recommend Mitch to anyone requiring legal services for probate, trust administration or estate planning."

- Jill S.
Get Our Free Online Guide
"Wills, Estates, and Probate 101"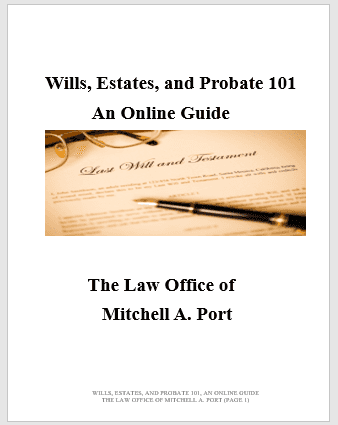 Just enter your email address to receive the download link.